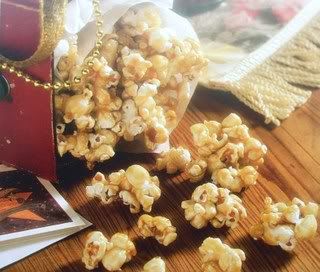 3 quarts popped popcorn, unpopped kernels removed
1 cup packed light or dark brown sugar
1/2 cup Fleischmann's Original Margarine
1/2 cup light corn syrup
1/2 teaspoon vanilla extract
1/2 teaspoon baking soda
Place popcorn in a 14 X 10 X 2 1/2-inch
roasting pan
; set aside.
Heat sugar, margarine and corn syrup in heavy 1 1/2-quart saucepan over medium heat to a boil. Boil 5 minutes without stirring.
Remove from heat. Stir in vanilla and baking soda. Pour over popcorn; stir to coat evenly.
Bake in preheated 250°F oven for 1 hour, stirring every 15 minutes. Spread mixture onto
baking sheet
to cool, stirring occasionally to break apart. Store in airtight container.
Makes 3 quarts
Helpful Tips
Store unpopped bulk popcorn in an airtight container for about 1 year. For best results, keep the container in the refrigerator or freezer so the kernels retain more or their natural moisture and pop up larger and fluffier.
Mix 'n' Match
Nutty Caramel Popcorn:
Follow the above recipe adding 2 1/2 cups peanuts to popcorn.